Jamb Admission has been shifted to September 2020
Jamb saying the cutt off mark for 2020/2021 admission into tertiary institution is 160 doesn't mean that all Institutions will accept candidates who scored 160. What they are trying to say is that: No schools should admit a candidate with UTME score less than 160″
What this means is that it is left for every institutions to choose whether they would admit candidate with UTME score of 160 or they would still base on the cutt off mark of 180.
All institution should have their minimum cutt off mark to be 160. Any Utme score below that should not be a matter to process the screening.
Click on the link below to see institutions that accepts cutt off mark 160.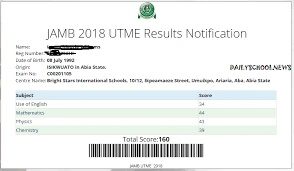 https://allschool.com.ng/universities-that-accepts-160/
All 2020/2021 candidate will all gain admission In Jesus/Allah name.
Please follow for more info.
Feel free to ask questions concerning 2020/2021 admission.
Follow, like and share for other candidates to be informed.